What Is Flexitarianism and How Is It Beneficial?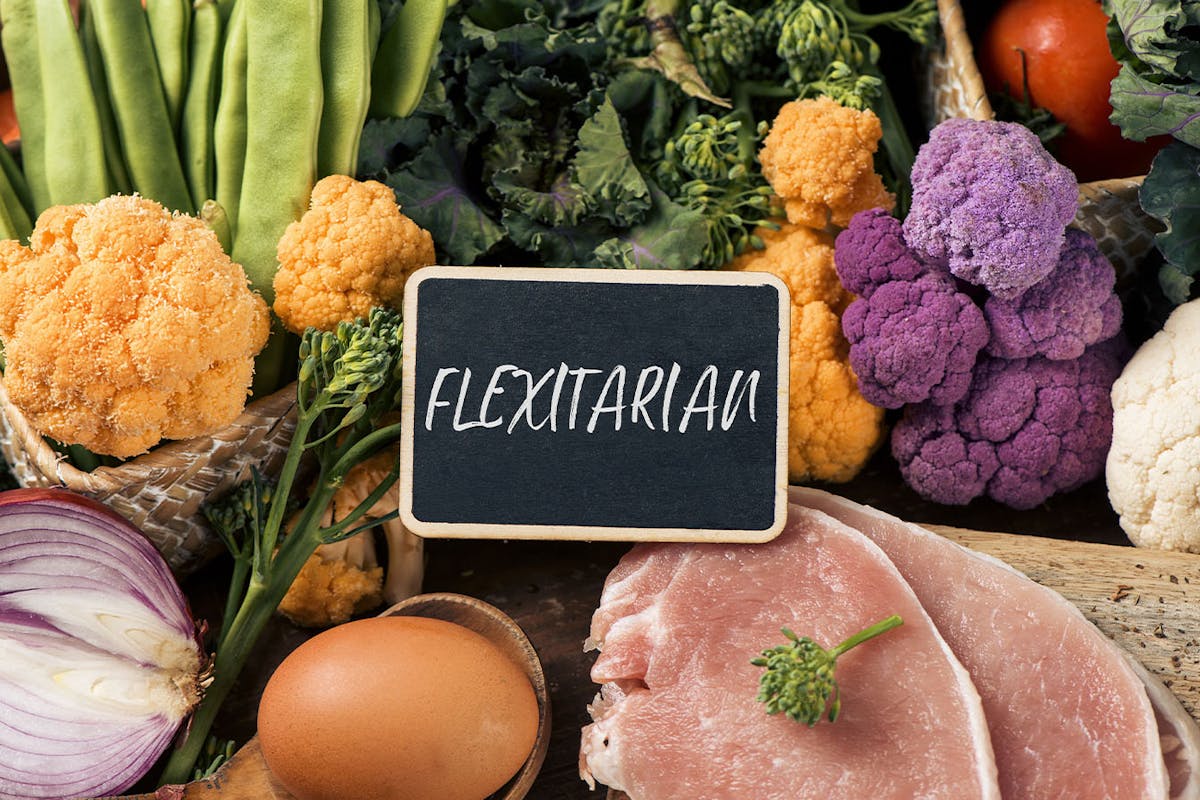 If you've ever contemplated adopting a vegetarian diet, you may have been discouraged by how restrictive the lifestyle can be. The idea of not being able to indulge in a hot dog at your favorite ballpark or throw burgers on the grill to enjoy with friends can be daunting. That's where a flexitarian diet, also referred to as a casual vegetarian diet, comes in.
The word flexitarian itself is a combination of the words flexible and vegetarian. It's used to describe a lifestyle that focuses on eating plant-based foods while allowing you the freedom to eat moderate amounts of meat and other typically banned foods.
There are no hard-and-fast rules to follow when it comes to flexitarianism. Instead, there are guidelines for which foods you can freely consume and which you should try to limit.
Flexitarian Food Choices
According to registered dietitian Dawn Jackson Blatner, author of The Flexitarian Diet: The Mostly Vegetarian Way to Lose Weight, Be Healthier, Prevent Disease, and Add Years to Your Life, flexitarianism is a good option for those who want to eat a more nutritious diet without giving up their favorite meat indulgences. She says people should think in terms of how they can add more plant-based foods to their meals and less about restriction and removal. It's a subtle but important distinction to understand.
What foods should you incorporate into your weekly menu planning? Here's where flexitarianism encourages people to concentrate their attention:
Lentils, beans, nuts, and seeds can provide good sources of protein.
Pine nuts, sesame seeds, sunflower seeds, and walnuts are all beneficial because they are high in heart-healthy polyunsaturated fats.
Vegetables in every color of the rainbow help ensure a nutrient-dense diet when consumed routinely.
Whole grains, including oatmeal, brown rice, amaranth, quinoa, and millet, offer a good source of fiber.
Fruits of all types are not only a healthy source of fiber and vitamins but also a good way to curb your sweet tooth.
Unlike vegetarian diets, a flexitarian diet can include meat and fish in moderation.
Menu Planning for Flexitarians
So, what are some meals and cookbooks that can help you transition to a flexitarian diet? In addition to the one by Dawn Jackson Blatner mentioned above, we have a few more resources for you to review.
EatingWell: Known for their commitment to healthy living, EatingWell is a good place for ideas. They share a variety of recipes on their website, including some geared toward those just beginning to embark on this journey.
The Flexitarian Diet: U.S. News & World Report, which researches and rates diets, ranked the flexitarian diet number two. They've created a beginner's guide that covers topics ranging from the pros and cons of this lifestyle to suggestions for eating out.
Mostly Plants: 101 Delicious Flexitarian Recipes from the Pollan Family: Written by Tracy Pollan, Lori Pollan, Dana Pollan, and Corky Pollan, this is a New York Times and USA Today best-selling cookbook. It's filled with recipes that make it easier to prepare plant-focused meals for families.
Modern Flexitarian: Plant-Inspired Recipes You Can Flex to Add Fish, Meat, or Dairy: Another good option authored by DK, this cookbook shares menus and recipes that make it easier for a beginner to adopt this lifestyle.
Read More about Nutrition and Aging
Because we know the important role nutrition plays in successful aging, we talk about it often on our blog. You'll find a variety of interesting articles about senior nutrition, from foods that help manage cholesterol to healthy breakfast ideas. We encourage you to bookmark the blog and visit often to learn more about eating well during retirement!