How is In-Home Care Different from Home Health Care?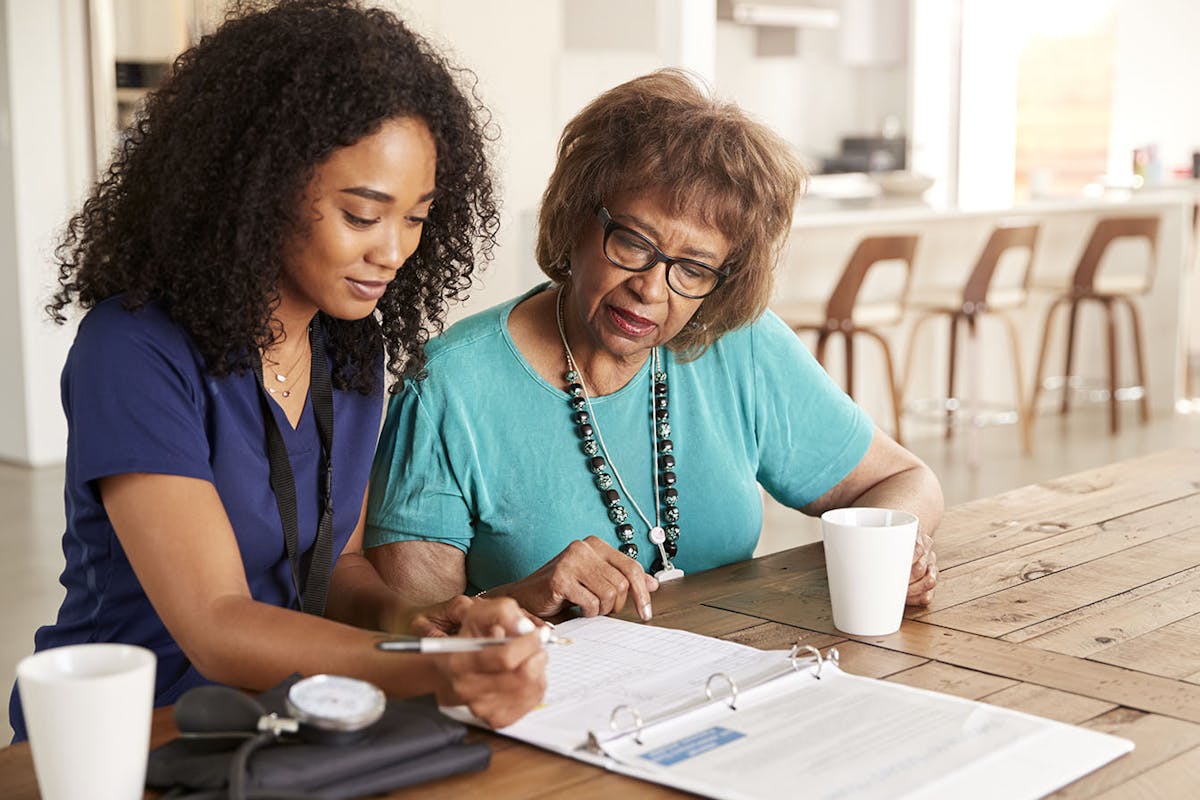 When a senior starts to require a little extra help, families often search for care options that can be provided in the privacy of their loved one's home. That's because home is the place most people want to remain as they grow older.
One question that often arises is what is the difference between in-home care and home health care? These two separate but similar types of care are easy to confuse, even health care professionals mistakenly use the two terms interchangeably. Let's take a quick look at each type of care and then dig a little deeper into both:
In-home care: Also referred to as home care or private duty care, is used to support the basic needs of those with a disability or senior citizens who live independently. An important distinction is that the assistance provided by home care agencies is non-medical.
Home health care: This type of care is primarily used when someone is released from the hospital after an illness, accident, or surgery. Home health care team members provide skilled medical and therapy services in the patient's home.
What is In-Home Care?
When an older adult or a person with a disability or otherwise needs support with their activities of daily living, a home care agency can be an ideal solution. In-home caregivers can provide assistance with tasks that support independence: 
Bathing
Dressing
Grooming 
Light housekeeping
Menu planning
Grocery shopping
Meal preparation
In some states, home care agencies can also provide medication reminders.
To help low-income seniors and people with disabilities pay for in-home care, most cities, counties, and states have funding programs available. For many seniors, however, the majority of home care services are paid for using the client's private funds.

What is Home Health Care?
Home health care agencies are staffed by nurses and therapists who assist patients receiving skilled services in their homes. Here are a few examples of the medical support they provide:
Wound care and dressing changes
Injections or I.V. care
Ostomy care and training
Diabetes education
Medication management
Physical, occupational, or speech therapy
Most home health care agencies are reimbursed by Medicare, Medicaid, and private insurance companies. Private payment is less common for these services than for private duty home care.
In order for Medicare to cover home health services, the patient must meet three criteria:
Have a physician who creates and supervises the patient's plan of care.
Have a physician certify that a patient is homebound, which means leaving home requires considerable effort.
Have an order from a physician requiring therapy services or intermittent skilled nursing care. 
Supporting the Transition from Hospital to Home
If you or someone you love will be discharged from the hospital soon, consider combining in-home care with home health services. Blending the two can allow your loved one to continue their recovery in the privacy of their home. Doing so can also help lower the risk of being readmitted to the hospital.
For a senior who lives alone, another tool to help support their safety and independence is a medical alert system. Life Protect 24/7 offers a reliable Mobile Monitoring Unit that works off of wireless technology. Call 1-844-203-5617 to learn more today!