Meal Delivery Service Benefits for Seniors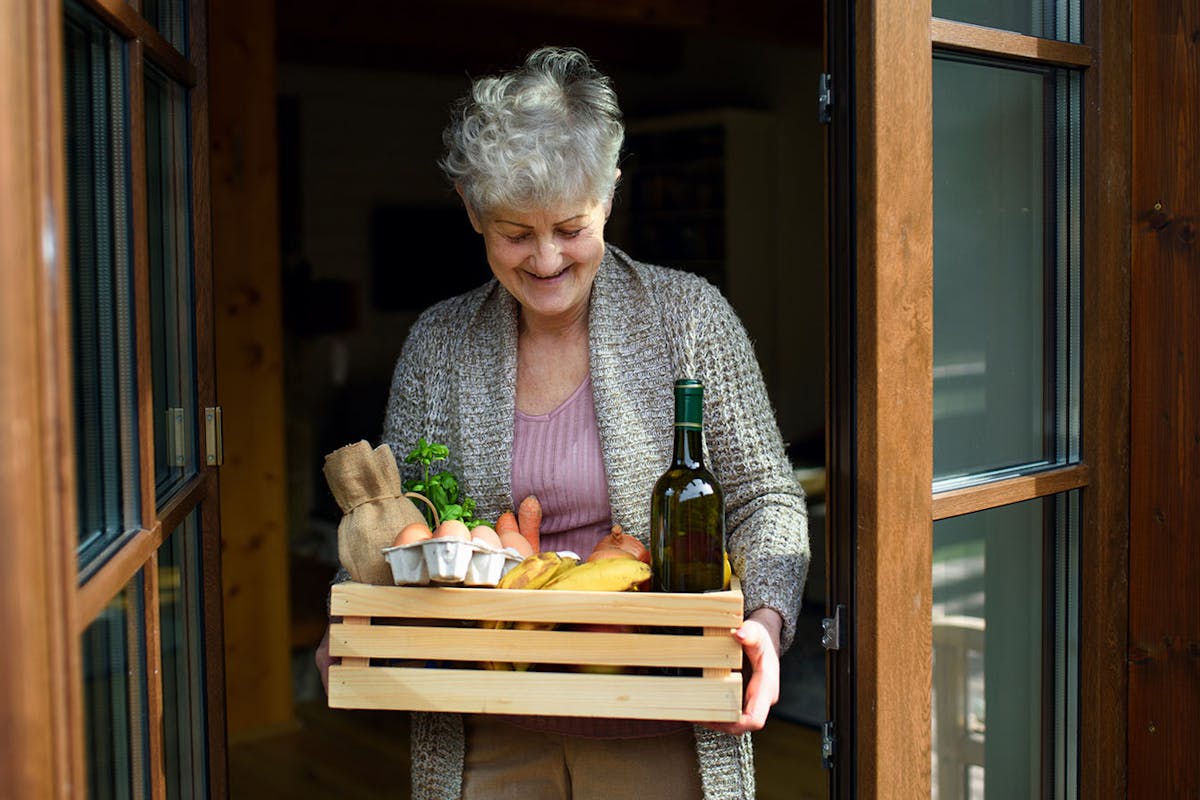 Healthy nutrition is at the core of successful aging. Protein builds strong muscles, which are essential for protecting balance and preventing falls. Fruits and vegetables help with everything from promoting digestive health to reducing the risk for disease.
While most seniors know they should eat a well-balanced diet, it often seems like too much work. Others struggle to find transportation to and from the grocery store or are avoiding unnecessary trips due to worries about the coronavirus. Services like DoorDash and Grubhub make it easy for restaurant-prepared meals to be delivered to your home, but the menu items might not be very healthy.
Fortunately, a variety of options can help you keep your refrigerator stocked with healthy foods that are easy to turn into nutritious meals.
Grocery Store Delivery Services
The COVID-19 pandemic has led to a rise in the number of grocery stores offering delivery and to people utilizing national grocery services. Check with your favorite local grocery store to see if they offer delivery or curbside pick-up. That makes it easier for you to safely restock your fridge with healthy foods.
If your store doesn't offer home delivery or curbside, there are several grocery delivery services you can explore, including:
Shipt: This home delivery model is based on a yearly subscription. Once you are a member, you can order online and choose a convenient time to have groceries delivered right to your doorstep. There is no charge (other than a tip) as long as you meet the minimum threshold. Participating stores include Meijer, Target, Fresh Thyme, CVS, Petco, Office Depot, and more.
Instacart: This service works much the same way as Shipt, but it partners with different stores. Depending on where you live, you may be able to shop Kroger, Costco, or Rite Aid through the Instacart app.
If you are tired of cooking for just one or two people or have a physical condition that makes meal preparation challenging, a meal delivery service might be a better option.
Meals Delivered to Your Door
Meal services have been around for a while but have spiked in popularity as a result of the COVID-19 crisis. Some of these kits have pre-prepared meals that are ready to reheat and serve, while others send only the ingredients for you to assemble and cook. Most offer flexibility in terms of your dietary requirements and the number of meals you purchase each week.
A few that earn rave reviews from users who've tried them include:
HelloFresh
Blue Apron
Freshly
Home Chef
Purple Carrot
Most services allow you to select meals tailored to your specific diet, such as low sodium, gluten-free, dairy-free, or vegan, so you can eat healthy meals based on your individual preferences.
Finally, if you aren't sure what type of diet best meets your needs, take time to explore a few top-rated ones. The DASH diet and the Mediterranean diet are two that earn high marks from physicians, including cardiologists. If you've been considering transitioning to a plant-based diet, Are Vegan Diets Safe for Older Adults? may be of interest.
Follow Our Blog
The Life Protect 24/7 Blog is published once each week with information and resources dedicated to seniors, adult children, and caregivers. We encourage you to bookmark it and stop back often!