Indoor Fitness Activities for Seniors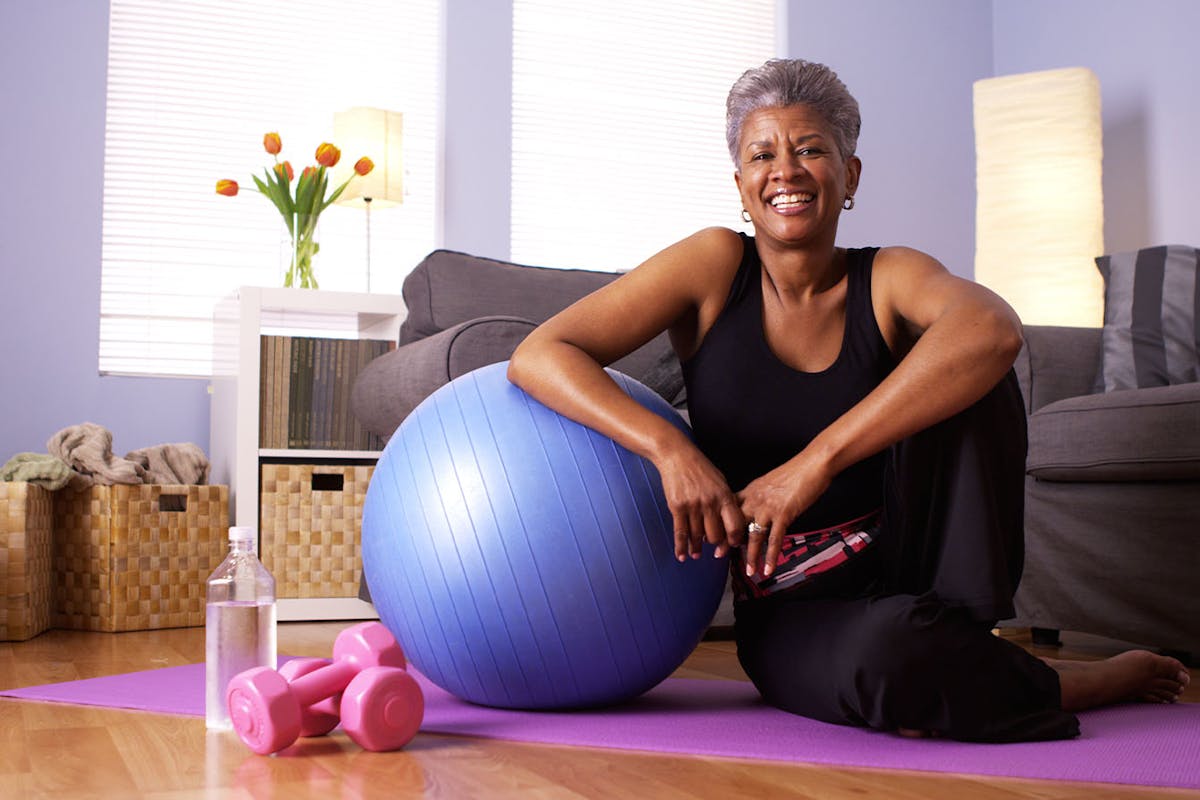 Between the COVID-19 pandemic and the seasonal transition to colder weather, many older adults find themselves spending much of their time indoors. That can put you at risk for a sedentary lifestyle, which is often linked to health problems such as weight gain and diabetes. It can also exacerbate conditions like arthritis.
With some fitness clubs still closed, finding ways to exercise and stretch at home is essential. Here's some information for you to review and then discuss with your primary care physician.
Stretching for Better Fitness
People who are new to exercise often overlook the importance of stretching in their fitness regimen. There are two types of stretching—static and dynamic—and each plays a unique role in your workout.
Dynamic stretching: These stretches help prepare your joints and muscles for exercise. They are performed in a slow, controlled manner to give your body a chance to warm up. These types of exercises help improve flexibility and range of motion.
Static stretching: After a workout, static stretching can help you wind down. Unlike dynamic stretches, which involve continuous motion, these types of stretches are actually held for 15–20 seconds and repeated several times.
This article on Static vs. Dynamic Stretching can help you better understand the differences, as well as offers a demonstration of how to perform each type.
When it comes to exercising, some forms are better suited to older adults than others. Let's explore a few that can be safely performed at home.
4 Senior-Friendly Winter Fitness Activities
Tai chi: This ancient Chinese martial art form is recognized for its ability to build strength, endurance, and flexibility in a low impact manner. That makes it kinder on older joints. Because tai chi improves core strength, it can help lower your risk of falling. It's also known as a medication-free option for reducing the pain of osteoarthritis. These free tai chi videos from the Arthritis Foundation are a good way to learn more and get started.
Chair yoga: Yoga is a fitness activity that benefits the body, mind, and spirit. It is good for balance, flexibility, range of motion, better breathing, and overall strength and endurance. Older adults can do yoga from a seated position and still reap those same health benefits. There are a variety of free videos to try, such as Gentle Chair Yoga for Beginners and Seniors or Chair Yoga for Seniors.
Strength training: As we age, our muscle mass decreases. It takes extra effort to maintain the core strength necessary to avoid falls. Resistance bands, as well as small hand and leg weights, are good strength training aids for seniors. For help assessing your current muscle strength, setting goals for improvement, and charting your progress, download the free guide Growing Stronger: Strength Training for Older Adults.
Recumbent bike: Cycling is another form of fitness you can engage in while watching your favorite sitcom. For older adults, a recumbent bike can be a good option. You'll enjoy the same health benefits as cycling but in a safe, reclined position. You can start slowly and increase your time as you get stronger.
As is true any time you are beginning a new exercise program, talk with your primary care physician before getting started.
Consider a Mobile Emergency Call System
If you are an older adult who lives alone, it might be beneficial to invest in a mobile emergency call system. Knowing you can summon help with the press of a button, whenever you need it, will give you and your loved ones peace of mind.