Sunscreen Basics for Older Adults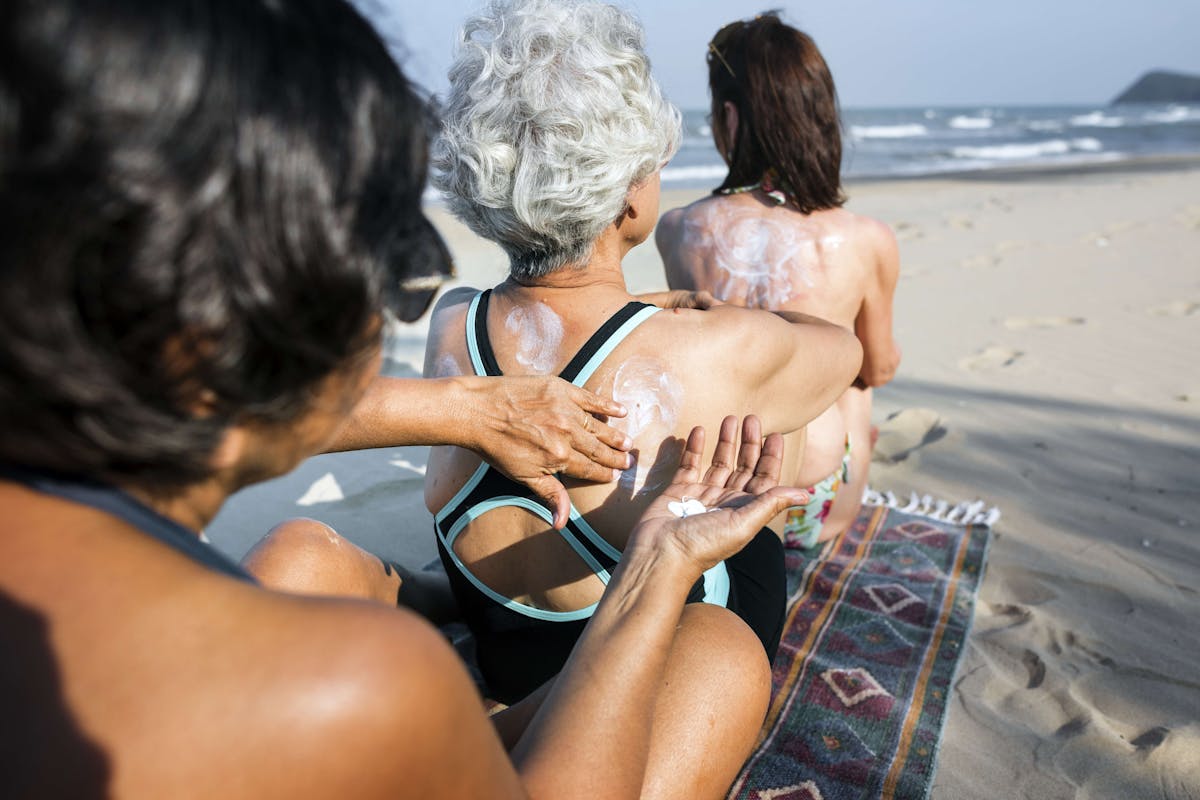 During summer, people tend to spend a lot of time outdoors. Warm weather gives families more opportunities to enjoy one another's company, from trips to the beach to attending a grandchild's sporting event. Something that isn't much fun, however, is experiencing sunburn or even sun poisoning.
Many members of this generation of seniors grew up not understanding how important it is to wear sunscreen. In fact, some even used a mixture of baby oil and iodine to try to enhance their tan. Today, though, we know more about sunscreen and how it protects against skin cancer.
Sunscreen is especially vital for older adults. Not only does their skin tend to be more delicate, but sun sensitivity is a side effect of some medications commonly taken by older adults. Here are a few basics seniors should know about sunscreen and summer safety.
Sunscreen 101 for Older Adults
Seniors need sunscreen, too.
Some seniors believe that sun damage that leads to skin cancer occurs only during childhood. So, if they haven't developed skin cancer by now, they don't need to worry about it during their retirement years. According to the Skin Cancer Foundation, people over the age of 65 account for more than half of deaths related to skin cancer. Because the risk of developing or dying from skin cancer rises as you grow older, people of all ages need to routinely use sunscreen.
Sun damage can happen fairly quickly.
You don't have to be outside for hours at a time to experience sunburn. Ultraviolet (UV) rays can actually begin to cause skin damage in as little as 15 minutes, and that includes on a cloudy day. This is why it's important to apply sunscreen even if you are only heading out for a quick walk or to tend your flowers. Also remember that some UV rays can penetrate glass. So, if you will be relaxing in a sunroom or riding in a car, you should probably still layer on sunscreen.
Use a product with SPF 30 or higher.
SPF (sun protection factor) is what determines how well a sunscreen can absorb and reflect the sun's rays. A sunscreen that is labeled SPF 30 protects against 97% of the sun's burning rays. That's generally what dermatologists recommend people, especially seniors, routinely use.
Reapply sunscreen as directed.
A popular sunscreen myth is that if you want to stay outside longer without reapplying sunscreen, you need only to wear a product with a higher SPF. That's just not true. You'll need to reapply sunscreen every 2–6 hours according to the directions on the label. If you are sweating a lot or swimming, you'll need to apply it even more frequently.
Protect against both UVA and UVB rays.
When choosing a sunscreen, invest in one that offers broad-spectrum protection. Those shield you from both UVA and UVB rays. UVA rays penetrate the deeper layers of the skin and account for 95% of rays. UVB rays make up a smaller percentage of UV rays but cause the most sunburns and sun damage.
Take advantage of different sunscreen formats.
Research shows there is very little difference in effectiveness between sunscreen sticks, sprays, gels, and creams. By purchasing sunscreen in different forms, you might be able to better protect yourself from the sun's damaging rays. Sunscreen sticks are easier to apply around your nose and ears, and also convenient to take along on a bike ride and walk. Sprays and creams, by contrast, can quickly cover larger areas of the body, like your chest, legs, and arms. Gel sunscreen adheres better to areas with hair, such as the hairline and scalp.
Don't skimp on sunscreen.
A mistake some people make is applying too little sunscreen before heading outdoors. A thin layer just isn't enough. Follow the directions on the bottle. A rule of thumb you might find helpful is to fill a shot glass full of sunscreen and apply it in thick layers all over your skin.
Stay Hydrated This Summer
While sunscreen is an important part of summer sun safety, there's another factor to keep in mind: hydration. Seniors are at increased risk for becoming dehydrated when the mercury and humidity rise. Summer Hydration 101 for Older Adults is a quick read to help you learn what you can do to prevent dehydration in yourself or a senior loved one.