Advice for Worry-Free Long-Distance Caregiving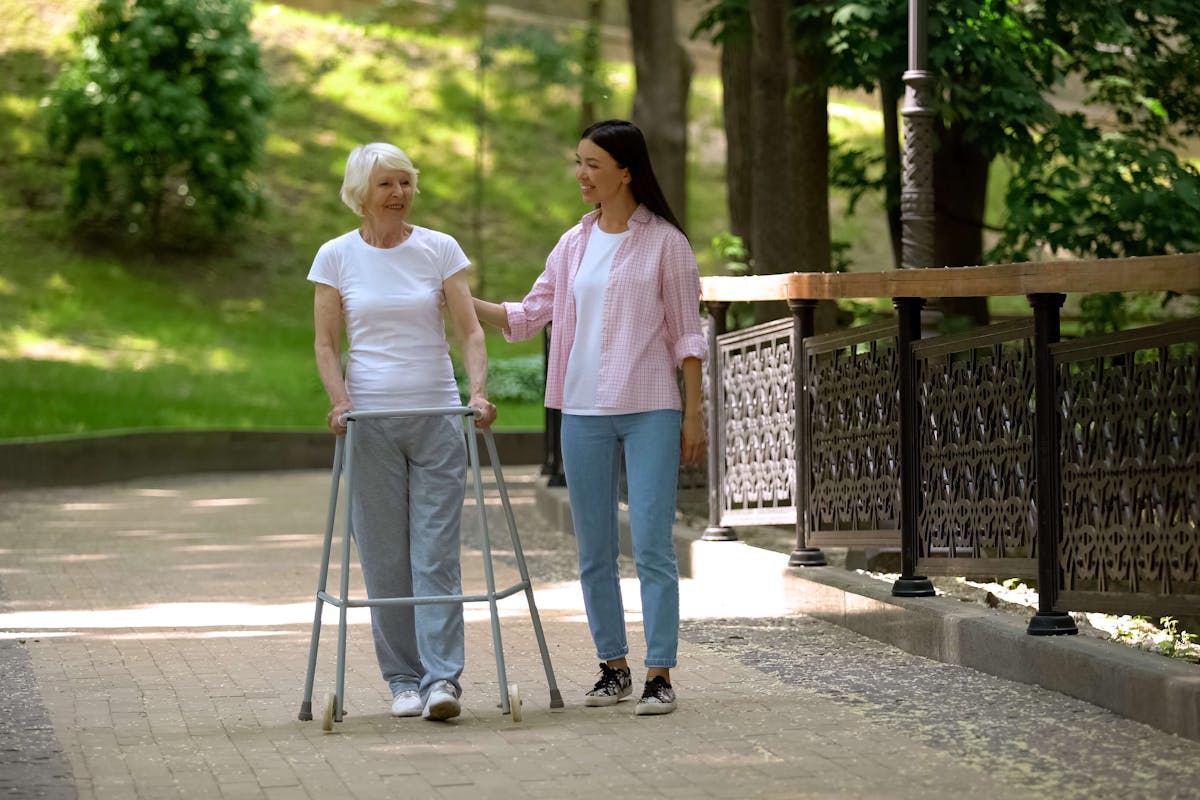 Being the caregiver for a senior loved one is often a balancing act. Many times, the family members who take on this role are working outside the home while raising children of their own. When the person you are caring for lives a long distance away from you, the challenge becomes even greater.
How can you make sure the senior has what they need when you are far away from them?
We have some ideas to make long-distance caregiving a little easier.
Begin with a Care Plan
You'll first need to objectively assess your family elder's abilities and challenges. For some adult children, that's a tough task to do. But it's an important one. You'll need to create a plan of care that meets their needs now, and likely for the near future.
Much of the planning process involves learning more about senior care options and getting a system in place.
Conduct a needs assessment: If at all possible, visit your family member in person and spend at least a few days with them. Jot down notes about what you see them struggling with, as well as those tasks they are still able to do well. For example, are you worried about their driving? Or do they seem to be unsteady walking or showering independently? Try to be kind but forthright about your concerns. Ask how they feel about things and what chores they might feel unsafe performing.
Create a care plan: When you feel like you have a good list, the next step is to talk with local professionals. Tour local assisted living communities, even if it is virtually. Meet with in-home care agencies. Create a list of your preferred providers. Because many adult children find themselves feeling uncertain about senior care, it may be helpful to employ the services of an aging life professional. Also referred to as geriatric care managers, these experts can be your eyes and ears when you can't be there. They have experience performing a variety of services, such as overseeing home care staff or monitoring a senior's care in a nursing home. It's important not to wait for a crisis to occur before putting a plan in place.
Connect with an Area Agency on Aging: Every city or county has an area agency on aging composed of paid staff and volunteers who provide assistance and advocacy for older adults. They can be a great resource for connecting with mobile meals programs, pharmacies that offer delivery services, respite care, and more. Use your senior loved one's zip code to locate the agency nearest to them.
Senior Care Technology Aids Long-Distance Caregivers
One advantage today's long-distance caregivers have over those of the past is technology. There are products and apps that can meet virtually any caregiving challenge, such as:
Organizing information: If a senior has a chronic health condition that involves multiple physicians, staying organized can be tough even if you live nearby. Fortunately, apps like Caring Village and CareZone can help. Both provide a place to store medication lists, medical history, physician contact information, and more. Another feature is the ability to share among family members and friends. That makes it easier for everyone to stay updated and connected.
Managing medications: Mistakes with medication are a common reason older adults find themselves being treated in a hospital emergency room. It can be a constant source of worry for their loved ones. Technology can help lower the risk for errors. MedMinder and MyMeds are two medication management tools with convenient features, such as text alerts sent to a caregiver whenever a dose is missed.
Assessing needs virtually: One form of technology many families grew accustomed to using during the COVID-19 pandemic is video chat. While you are enjoying a conversation with your faraway loved one, take time to visually assess how they are doing. Unintentional weight gain or loss, flushed cheeks, or a disheveled appearance can all be early signs that something is wrong.
Calling for help in an emergency: Lastly, invest in a mobile monitoring unit that your loved one keeps with them at all times. In the event they experience a fall or other emergency, help can be summoned with the push of a button. Because the device utilizes wireless technology instead of a landline, it works wherever the senior is.
If you have questions about mobile monitoring for a senior loved one or would like to get started, call us at 1-844-203-5617 today!